The BrabantNacht is a unique way to discover eight of Brabant's icons during an exciting event in the middel of the night. Eight unique attractions opened their doors exclusively for people that participated during the BrabantNacht. We were invited to discover the city of Tilburg in The Netherlands during the BrabantNacht 2016.
Tilburg is a vibrant city in the southern part of The Netherlands in the region of Brabant. The cultural climate and student population make the town highly inviting. The quays, the water and the pier in the Piushaven are a lively stage for an array of events and activities. Every week at 013, the largest pop music venue in the Netherlands in the heart of Tilburg, you can enjoy live concerts, dance and club evenings and festivals.
Draaimolen Festival
The Piushaven is where our BrabantNacht started. A boat was waiting for us to bring us to the mysterious Draaimolen Festival. It was a mystical boat ride, pitch-black and only guided by the light of a flashlight towards our ending point. You would expect a car waiting for us to bring us to our end destination, but not during this night. A bus was waiting for us. A bus? Yes, but not your typical public transportation bus, it was a club on wheels to bring us to the backstage of the Draaimolen Festival. A fully equipped bus including a bar and dj booth, ready to bring us to a forgotten place in the middle of the woods to rave on techno and dancebeats of international dj's.
Smaak Karavaan
This festival is not about dancing but all about eating and the perfect breakfast after a night out at the Draaimolen Festival. Smaak Karavaan is a food festival where you can find the most original kitchens on wheels. Food trucks, food bikes… it's all there. Don't expect cheap food here. You can eat meatballs, burgers but also lobster and cupcakes. This food is served in the most joyful atmosphere while musicians and dancers are entertaining the crowd.
BrabantNacht is a great initiative to promote the region of Brabant with special packages. You can find more information about the BrabantNacht on the website of Visit Brabant.
Discover our BrabantNacht in pictures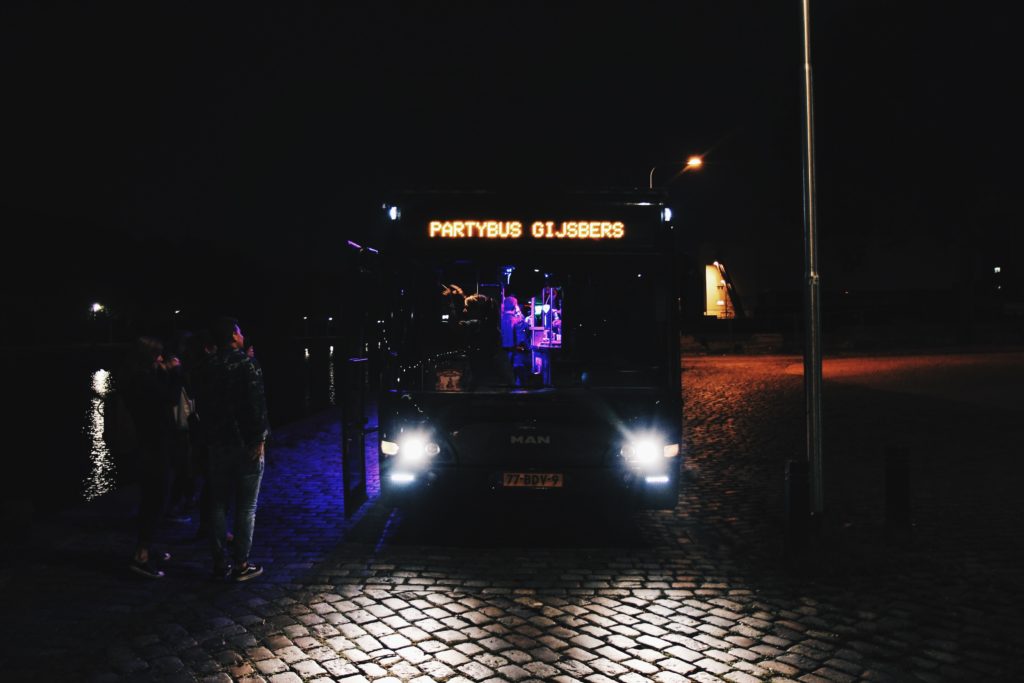 Draaimolen Festival
Smaak Karavaan